97% Organic / 100% Natural Himalayan Facial Exfoliating Salt Scrub
---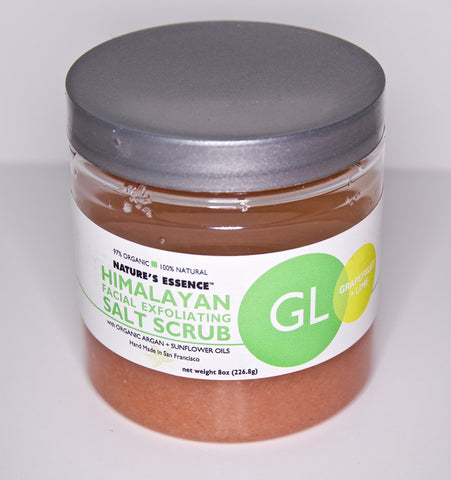 All Natural Himalayan Exfoliating Salt in USDA ORGANIC ARGAN oils + sunflower oils. 
1) Himalayan Salt is famous for its purity and nourishing minerals elements that are essential for human health.  The minerals can be readily absorbed through bathing therapies.  
2) Argan oil is rich in anti-oxidants, which has restorative and anti-aging properties.  
3) Jojoba oil offers excellent anti-aging and moisturising properties for skin.  
Ingredients:  Pink Himalayan sea salt, certified organic Argan oil, certified organic Jojoba oil, certified organic sunflower oil. No soap, no thickeners, no filler and no emulsifiers.  No water added.  ALL VEGAN.  NO PRESERVATIVES, CHEMICALS FREE.
Available in Extra Fine, Fine and Corse salt.
Net Weight:  226.8g
Directions:  Mix contents well.  Apply a small amount onto skin using light-circular motion.  Rinse skin throughly with warm water.  Pat-dry.     
Related Products
---