97%Organic/100%Natural Body Butter
---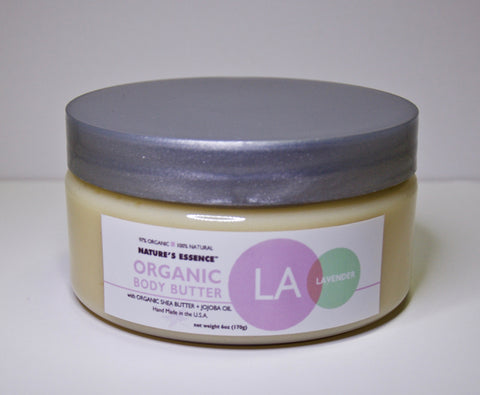 This BODY BUTTER is a blend of shea butter, coconut oil, and jojoba oil.  
1) Shea butters superb moisturiser and contains vitamin A for improving skin condition like blemishes wrinkles.  
2) Coconut oil contains vitamin E, which is natural antioxidants to prevent premature ageing and wrinkling skin.  Products are hand made in small batch.  
3) Contains no Beeswax.  
Ingredients contain USDA certified organic Shea Butter, certified organic Coconut Oil and certified organic Jojoba Oil.  100% pure lavender essential oil.  NO PRESERVATIVES, CHEMICALS FREE, PARABEN FREE.    ALL VEGAN.  No fragrance.  
Direction:  After shower, pat body dry with clean towel, then, apply body butter on a slight moisture skin.
Net Weight: 170g
Made in the USA 
Related Products
---